Swim Lessons 2020
Description
Looking for a fun and safe way to get your child swimming? This is the place for you! Come be a part of the Tahoe City Swim Lessons Program. Classes are offered for children 3.5 yrs and up.
Online Registration Opens April 25, 2020: 8:00 AM for Residents and 12:00 PM for Non-Residents.
Lil' Swimmers: 
This class is perfect for your infant or toddler. They will become comfortable both in and around the water. Instructors will use games and songs to teach parents how to work with their children in the water.
Level 1 - Guppies: 
Minimum age 3.5 yrs, and 36" to the chin. Participants must be willing to enter water in group setting without parent. Class will focus on water exploration, arm circles, kicking and bobbing.
Level 2 - Seals: 
No fear for this class! Swimmers get ready to put your face in the water, swim on your front and back, learn breathing skills, and alternate your arm movements.
Level 3 - Marlins: 
Swimmers will explore deep water, float on front and back without support, tread water, flutter kick and begin to learn the front crawl.
Level 4 - Sharks: 
Now is the time to work on stroke development, front and back crawl, breaststroke, sidestroke, treading water, elementary backstroke, and diving.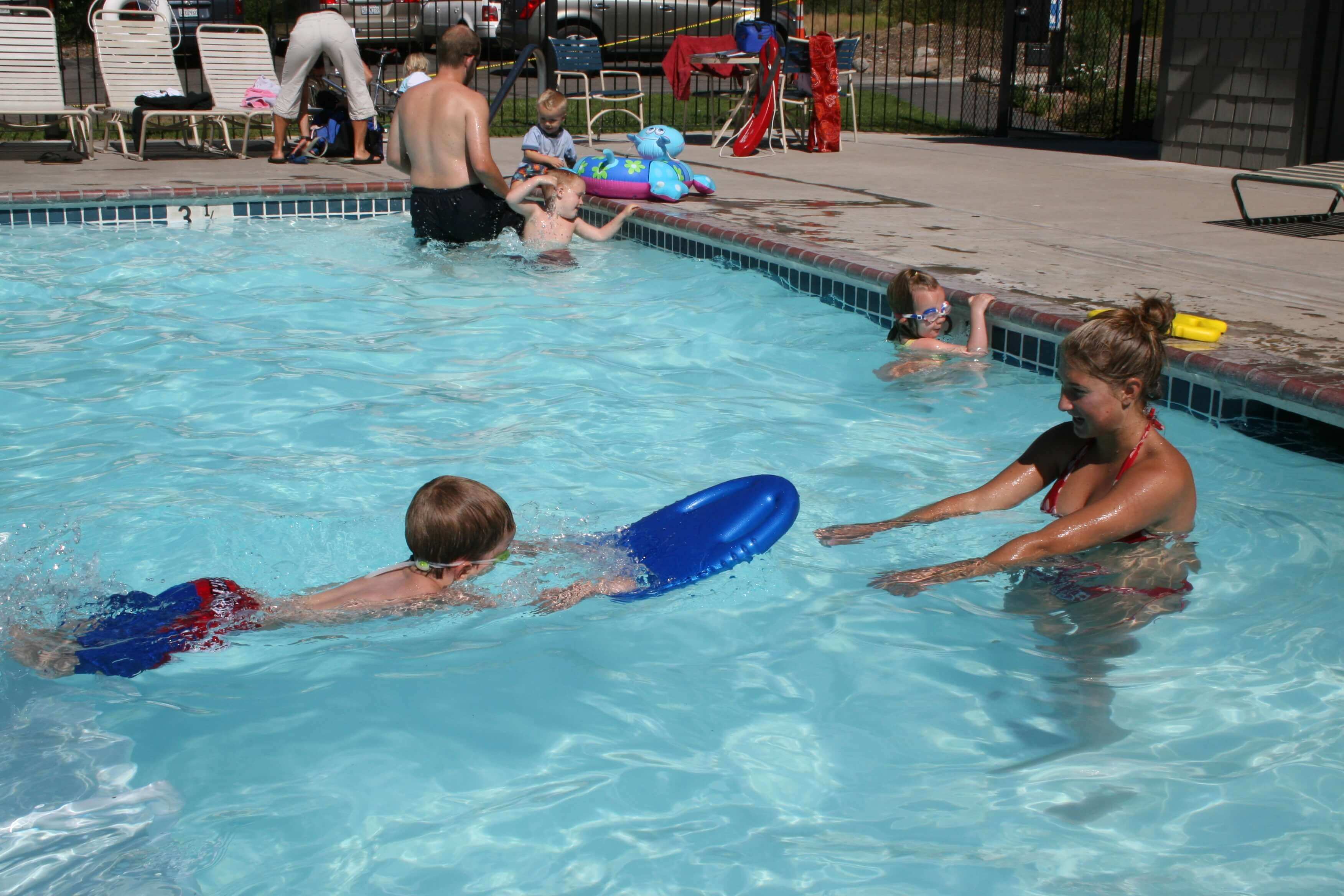 Details
Ages:

Lil' Swimmers: 6 months - 3.5 years

Swim Lessons: 3.5 yrs and up

Days:
Monday - Thursday
Sessions:

Lil' Swimmers

Session A: July 20 - 23

Session B: July 27 - 30

Swim Lessons

Session 1: July 6 - 9
Session 2: July 13 - 16

Session 3: July 20 - 23

Session 4: July 27 - 30

Session 5: August 3 - 6

Session 6: August 10 - 13

Times:

Lil' Swimmers

10am - 10:30am

Swim Lessons

8:15am - 8:45am: Seals

8:45am - 9:15am: Guppies

9:15am - 9:45am: Guppies, Seals, Marlins, Sharks

Location:
Granlibakken Resort Pool
Fee:
$67 for Residents
$72 for Non-residents
$50 for Granlibakken Homeowner
Note:
All Swimmers are evaluated the first day of class to ensure they are placed in the appropriate levels. Depending on levels, classes may be combined.
Please contact us at (530) 583-3440 or recreation@tcpud.org