Bike Trails

Attention Trail Users! The North Shore Bike Trail, from the Tahoe City Safeway parking lot area to Dollar Point, will be closed for scheduled maintenance from Tuesday, September 24 until Thursday, September 26. Thank you for your cooperation as we improve our trails!
Description
What better way is there to tour North Lake Tahoe than on a 23 mile trail network on the lake? Along the way you may find bicyclists, joggers, strollers, and even anglers also enjoying the views. With respect, we ask that you are tolerant and respectful of everyone's mutual right to use these trails. Parking for use of the trails is available at 64-Acres Park. Motor vehicles are strictly prohibited on the trails except for authorized maintenance. Please watch for maintenance workers and equipment.
2018 Bike Trail User Survey Report
Rules of the Road:
Please help to increase everyone's enjoyment of the trails by observing the Rules of the Road:
Keep right, pass on left when safe.
Blaze a trail of kindness.
Alert when passing.
Use safe speeds.
Always use a light at night.
Look and listen, be respectful.
Speed limit is 15 mph.
Class 1 and 2 E-bikes permitted.
Bikes yield to pedestrians.
Keep dogs on a short leash.
Yield to oncoming traffic.
Please contact us at (530) 583-3796 or facilities@tcpud.org
Bike Trail Map (PDF)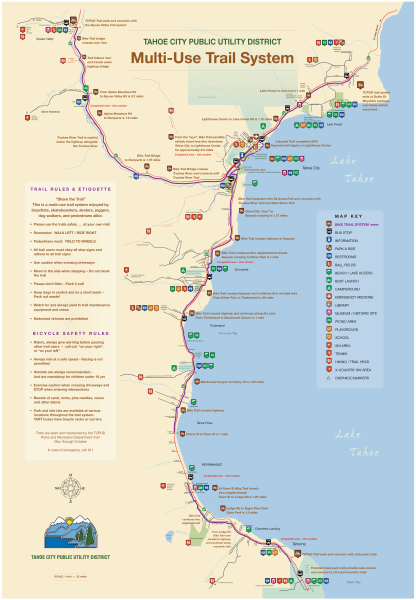 Bike Rules and Map (PDF)